Remodeling Gallery > Lower Levels, Basements & Wet Bars
---
---
Vogel Lower Level Finish
Project: Brew room inspired space w/ the norm of reuse/ recycle/ reclaim
Materials: Reclaimed Oak Barn-wood custom saloon doors & brew room door, reclaimed pallet wall. Natural & stained Poplar cabinets and cubbies, Luxury Planl Vinyl floor, Floating shelves, Knotty Alder bar top
---
Ashcroft Lower Level Finish
---
Lower Level Finish Design & Completed Project Photo
---
Lower Level Finish Design
---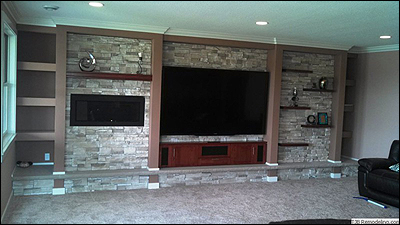 Feature Project ~ Johnson Lower Level Finish
Blaine, MN
Scope:
Finish Lower Level with TV wall, Wet Bar, Exercise Room, ¾ Bath & Finished Mechanical Room
Materials:
Entertainment Wall with a 90" TV
Napoleon Fireplace
Cherry Cabinets
Enamel Wood Work,
Crown Moldings
Tile Flooring
Frameless Shower Enclosure
---
Scope:
This 1500 sq ft Lower Level is designed to inspire family gatherings and entertain. Lower Level is complete with Maple cabinets & woodwork. The Wet Bar & free-formed Center Island features granite tops and stone face, creating a space to be envied by all! Other highlights include a Wine Cellar, TV Room, Billiards & Poker Room & ½ Bathroom. The use of Multiple; radius, dropped, back-lite soffits creates mood lighting and breakup the massive ceiling space. A Cyclone Stone Fireplace is the center piece. A shadow box for the TV is set in a radius wave wall with suspended shelves. Display walls with multiple in-wall cubes balanced with suspended shelves. Come visit this lower level, set up an appointment, and let's see how we can design your space!!
Results:
Two extremely satisfied homeowners, the pictures speak for themselves!! Please take a look at the design renderings. Lastly this lower level was finished in less than 9 weeks (63 days) from start to 100% complete.
CAD Rendering with Completed Project Photo
---
Feature Project ~ Olson Lower Level Finish
Scope:
Create a finished space in the Lower Level that inspires a north woods feel, use a different wood species, texture & colors.
Project Description:
TJB Homes, Inc. finished this lower level with the use of Knotty Hickory cabinets, posts & beams. Knotty Pine walls & Custom Hickory raised panel doors, Flat stock Knotty Pine trim with header board. The custom built Free Standing Island is a one of a kind with knotty pine vertical panels and 62" x 62" solid granite top, with overhangs on all four sides. A Heat-N-Glo Stone Fireplace set in the corner adds that comfort of warmth & sets the final mood.
Results:
A tricked out, state-of-the-art audio/visual rec room with a North woods feel, look @ the pictures, you be the judge!!! Lastly, extremely happy homeowners.
Click photos below for larger images...
TJB Remodeling Send Us An Email
(Only Name & Email Fields Required)
Our Headquarters
9100 Baltimore Street
Suite 104
Blaine, MN 55449
Call us
Email Address