Remodeling Gallery > Kitchens
---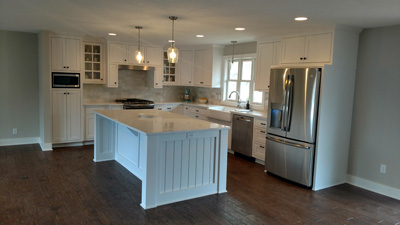 Feature Remodel Project ~
Bodnia Kitchen & Family Room and Entry
1973 Split Entry Complete gut of Family room, dining room, kitchen & hallways Enamel Inset shaker panel doors, 3/4″ x 5-1/2″ Solid hand scarped Oak floors, Quartz counter tops, Marble backsplash, New windows & front door, two-tone Oak & enamel railing w/ 6″ newel posts.
---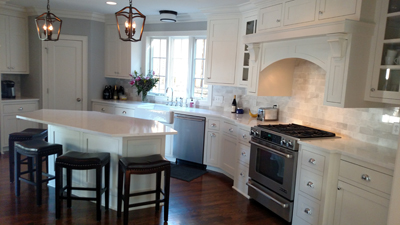 Feature Remodel Project ~
Goring Kitchen & Bedroom Addition
Existing 1924 home. 1 year for variance approvals & an additional 9 weeks for plan approvals, Soil tests, engineering, Helical piers, to name a few challenges!
Timeless - Craftsman.
White enamel cabinets, White Marble subway tile, White Quartz tops, inset Shaker cabinet doors, Red oak hardwood floors, Stucco exterior, 7? crown molding, Farmhouse sink.
---
Feature Remodel Project ~ Brengman Kitchen
Relocate kitchen from the small side of the home to the opposite end, relocate ½ bath, design Mudroom entry & TV room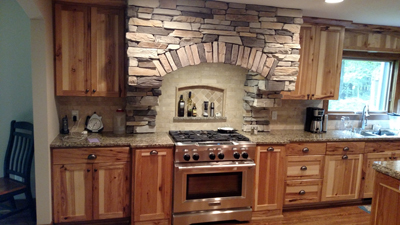 Rustic Hickory cabinets, shaker panel, full overlay
Granite tops w/ 2-½" thick chisel face island top
Stone hood w/ 36" gas range
Natural stone backsplash w/ recessed niche & granite ledge
2-¼" Oak wood floors
Dry bar w/ LED lighting
LED Under cabinet lighting
Pullout Spice rack w/ pan divider on opposite side
Utensil Pullout w/ S/S canisters & shelf below
Arch top soffits to create separation, yet keep it all open
Misc:
New TV/ sitting room
All new Marvin- wood/Ultrex windows w/ Stool
Versailles pattern natural slate floor
Refinish existing oak floors- lace in as needed, sand/ stain/ seal/ varnish & top coat
New Hickory mantle @ existing fireplace & gas insert
Exterior of window replacement- Seamless install as they were always there w/ 2x4 RSC wraps
---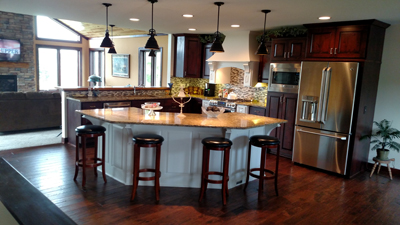 Feature Remodel Project ~ Anderson: Porch & Kitchen
Scope: Knotty Alder cabinets w/ Enameled accent Center Island & Hearth area, Innovative new wood hood design w/ pullout spice racks, Full overlay raised panel doors, creative storage pullouts, granite tops w/ Solid Alder woods top @ Dry-bar & raised snack top, burnished Acacia solid wood floors, all new lighting, glass backsplash, eliminated walls for Open floor concept, New porch for a seamless flow to great room. Also includes a 16' x 20' porch addition!
Click photos below for larger images...
Click here for the porch project...
---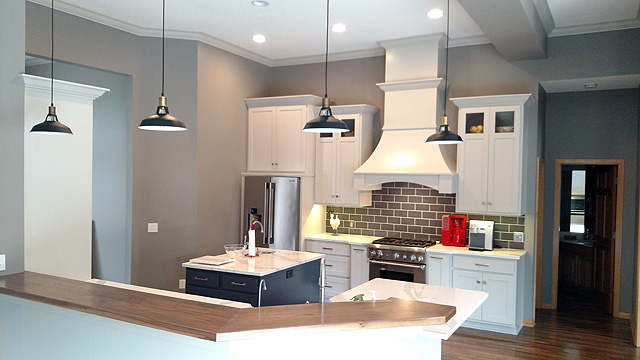 Feature Kitchen Remodel Project ~
Erickson Kitchen
New hood design "The Eiffel Tower"
12′ ceilings
Enameled cabinets with all the bells & whistles
Cambria tops
Black Walnut raised snack ledge
Stained Hickory wood floors
Click photos below for larger images...
---
Artisan Home Tour - Kitchen Remodel
---
Ashcroft Kitchen
---
Feature Kitchen Remodel Project ~ Svensson
Scope:
Combine the small kitchen & dinning to create a large kitchen space & mudroom/ rear entry.
Materials:
Alder cabinets with all accessories one would expect; Full overlay (raised panel doors w/ shaker rail) soft close doors & self close drawers, 12 rollouts, a total of 17 drawers, 42" uppers, hearth kitchen w/ spice racks, raised panel ends, 3- piece crown molding. TJB also replaced 2 existing front windows to allow for base cabinets, mud room w/ oak bench & coat board w/ shelf, Reused existing Oak hardwood floors (refinished & stained darker).
Finished Product: Well you read the review, one extremely satisfied homeowner with a new love for her home & kitchen!
Click photos below for larger images...
---
Feature Kitchen Remodel Project ~
Vandermey Kitchen
Isanti, MN
Scope:
Remodel existing kitchen, open walls, all new railings.
Materials:
Knotty Alder cabinets, Hand scraped solid maple floors, granite counter tops, Alder railing with wrought iron pickets, enameled woodwork.
Click photos below for larger images...
---
Feature Kitchen Remodel Project ~
Iazzetta Kitchen
North Oaks, MN
Scope:
Remodel whole upper level of rambler; raise flat 8' ceilings to vault.
Materials:
Knotty Alder Center Island & Dry bar & enameled cabinet (Two-Tone). Center Island w/ location for 10 stools, Granite counter tops, 3 panel Knotty Alder doors, Acacia Solid hardwood floors, 8" plank (butcher-block), Stone Fireplace.
Click photos below for larger images...
---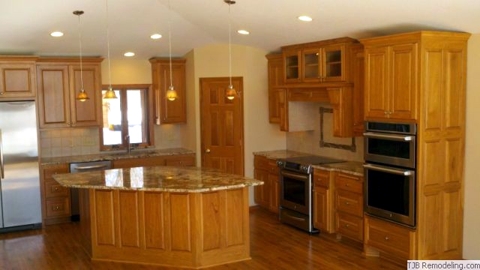 Feature Kitchen Remodel Project ~ Gille
Scope:
add a 548 sq. ft. addition to existing home w/ crawl space, relocate kitchen to new addition, use of old kitchen space for new formal dinning room. Kitchen is finished w/ Hickory cabinets, granite tops, tile back splash & solid oak (Rustic) floors. WE opened all adjoining walls to new addition & wrapped the supporting posting in solid Oak. There is also space for Sun room in addition, complete remodel of existing master bedroom & new railings. In existing house; complete removal of existing attic insulation, replace w/ R-50 blown fiberglass, and remove roof sheathing over existing Family room vault add R-38 spray foam (closed cell). Re-finish existing Parquet wood floors in family room. Tear-off re-roof entire home, new stone front, w/ stone columns, covered 7' x 16' front porch w/ maintenance free decking.
Results:
Extremely satisfied homeowners, this project was completed in 12 weeks other then exterior; stone work, painting, final grade and sidewalk. Project started on December 3rd (dig/ excavate foundation), completed February 20th (Final Inspection). All plans & design is created by TJB Homes, Inc.
Click photos below for larger images...
---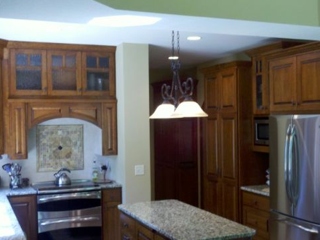 Feature Kitchen Remodel Project ~
Offerman Kitchen, Mudroom & Addition
Scope:
Scott & Sharon chose TJB Homes, Inc. to custom build their dream home in 1987 on 15 acres that sits among the serene woods, open fields and Mother Nature. Twenty-five years later, and they are back and ready to update the kitchen and mudroom, again with TJB Homes Inc.
Scott, being an avid hunter and fisherman, loves to bring home his bounty for wife Sharon of 32 years to create spectacular wild game and fresh fish meals. The kitchen remodel consists of opening many walls to create that ever so popular "open floor plan". The custom cherry cabinets abound the kitchen with loads of storage and tons of working space on new granite tops. We also added space to the existing mudroom, along with a bench with storage and a bead board rail with hooks and shelf.
This project already has Sharon's wheels in motion for future remodeling plans. "However", she whispers, "I haven't told Scott yet!"
Click photos below for larger images...
---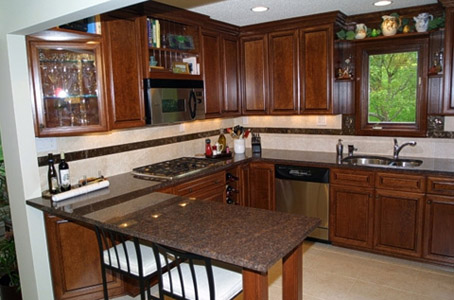 Feature Kitchen Remodel Project ~
Rainaldi Townhome
Scope:
How do you take a 1970's kitchen in a townhome with a walled off enclosed kitchen, NO storage, NO work space & cabinets that are so far out of date Fred Flintstone is calling!!!!
Description:
Completely gut entire the kitchen, remove a wall to create open kitchen design, relocate frid to a new location maintaining and proper flow in the work space, Custom cabinetry to maximize every Sq. inch of useable space, Cherry cabinets & granite tops w/ tiled backsplash creating a timeless design that will outlast the existing house!!!!
Results: One extremely Satisfied Customer & Homeowner with a kitchen they are proud of. Click to read testimonial!!!!
Click photos below for larger images...
---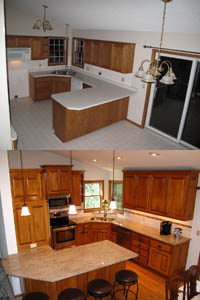 Feature Kitchen Remodel Project ~
Ringwald
Scope:
Take a 1992 TJB Homes, Inc. custom built three level split home and update the kitchen from boring old dark Oak woodwork & cabinets, to create a space with a useable peninsula for sitting for 5 and a work space that allows more then one person in the kitchen at a time.
Description:
Complete kitchen demo/ remodel, relocate frid to allow a functional work flow, all new custom Maple cabinets maximizing all useable space, Granite tops w/ ceramic backsplashes to create timeless design, shorten wall to open space @ existing living room, reverse side of peninsula to allow sitting for 5 without disrupting dinette.
Results:
The before & after's speak for themselves, a custom designed kitchen where the new grandchildren can hang out or even help Grandma & Grandpa prepare meals & snacks together. An updated kitchen with a timeless design
Click photos below for larger images...
---
Kitchen Remdodel ~ Wray
---
Remodelers Showcase > Spring 2016 > Kitchen
---
Kitchen Gallery
TJB Remodeling Send Us An Email
(Only Name & Email Fields Required)
Our Headquarters
9100 Baltimore Street
Suite 104
Blaine, MN 55449
Call us
Email Address