Remodeling Gallery > Screen Porches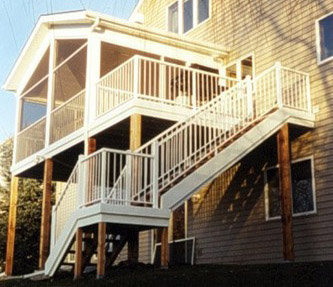 Feature Screen Porch Project ~ Jesmer
Description:
12' x 18' screen porch w/7' x 12' maintenance free deck w/stairs to grade, the entire structure was constructed out of maintenance free material.
Scope of Project:
The homeowners wanted a room that they could use to enjoy the backyard and summertime weather without being eaten by mosquitos. They also wanted a room that was maintenace free. We designed a great screened porch. The screens are in white aluminum frames with a built-in railing ststem. The ceiling was completed with "Royal Wood" which is a while melamine like product that is washable. The white ceiling helps reflect light back into the house. The flooring on porch and deck was "EON" which is a maintenace free decking. All of the rim boards and skirt boards were wrapped with aluminum.
Click photos below for larger images...
---
Screen Porch Gallery
TJB Remodeling Send Us An Email
(Only Name & Email Fields Required)
Our Headquarters
9100 Baltimore Street
Suite 104
Blaine, MN 55449
Call us
Email Address