TJB Remodeling Dream Team
From left to Right: Jason "Westy" Westrum, Jason Budzynski, Joe Williams
The TJB Remodeling Team is an extension of our family to be part of your family. We believe that the journey to complete your project is a relationship between client, Contactor, Contractor employee's & Sub-Contractors. We become close with your family during the duration of the Project. You will especially see Westy & Joe on a regular basis. We treat your home as we treat our own, if not better.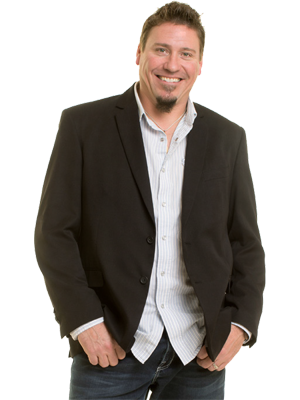 Jason Budzynski
Jason Budzynski:
General Manager
A Client's Best Friend
While tots his age were playing kick-the-can, Jason Budzynski's game was "How many nails can one find?" at his builder-father's homes. "My entire life was spent on the jobsites of TJB Homes," he declares. At ten Jason was cleaning windows and floors. By 12, he'd taken up the nail gun of a finisher, and by 14, "I could trim out and finish a house myself."
No surprise, then, that today he heads up the 43-year-old company's strong remodeling division, responsible for 22 projects last year - adding and reimagining everything from whole-house renovations, to kitchens and baths.
Speaking of baths! TJB's star turn on eight episodes of "Bath Crashers" has driven business through the roof, with customers reporting, "Mom saw the show and said, 'You have to use those guys!'"
Clients appreciate that "it's a family business, backed by the integrity of over 40 years," reports Jason, who also credits his personal dedication: "I run and oversee every remodeling project, starting with the first meeting to the last day. I'm close to the client, becoming good friends with the families that I work with."
Scads of happy customers back those bold statements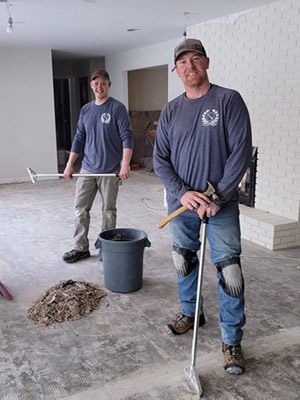 Even smiling when scraping floors!
Joe Williams: Project Assistant
Joined the team in Spring of 2022
Hello, I'm Joe Williams,
I'm new to TJB and exited to work on your project. I'm hardworking, responsible, and easy going.
When I'm not giving it my all on your project, I enjoy fishing, and hunting with my lab.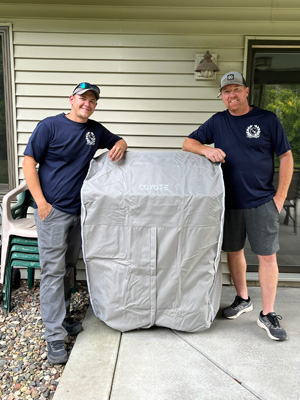 Delivering Coyote grill to client
Jason Westrum "Westy": Project Manager
Joined the team in Fall of 2021
Hello, I'm Jason Westrum,
I have been part of the TJB Remodeling Team for almost 2 years. I have experience working in remodeling industry for nearly 30 years. I enjoy getting to know our customers and making the remodel experience as memorable as possible!
I have been married to my wife Amy for 25 years. We have 2 daughters Anna 23 and Elli 18. In my free time I enjoy watching hockey, fishing, and hanging out with my family playing games.
I'm Excited to meet you on the jobsite!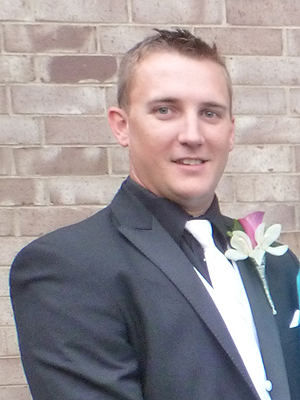 Jon Ramey
Jon Ramey: Draftsman, specializing in CAD & Chief Architect
Joined the team in 2007
I am Jon Ramey. I have been with TJB Homes Inc. since 2007. I was born and raised in Forest Lake. I was raised by a loving mother (Patti Ramey) who did what she could to raise 3 children by herself. I have an older sister (Destiny) and I also have an older brother (Glenn). I am thankful for the way I was raised and with the morals I was raised with. I am married to Tiffany, Tom's daughter. We have 2 sons & one beautiful daughter.
I draft all of TJB Homes & Remodeling plans using CAD & Chief Architect.