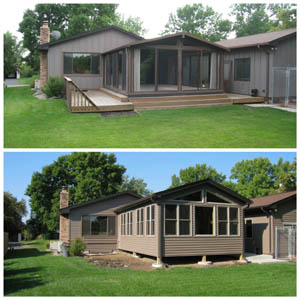 Arden Hills Four Season Porch
Project Description:
16′ x 24′ Porch w/concrete patio, all new whole house siding & stone, all new concrete driveway, stoop & sidewalk.
Scope:
Demo complete existing patio enclosure that's: leaky, settled & inefficient, demo existing rotten decks, Create a new porch with cedar interior with black walnut beams, crown molding & cabinets, use of Mini split w/ heat pump to heat and cool space @ 200% - 400% efficiency, LED lighting @ crown molding for an elegant soft mood lighting.
Results:
The results speak for themselves, See the before and after's. "Wow, What a Room" The use of tough & groove cedar interior with a soft touch of black walnut creates a porch or room that's the envy of all!!!